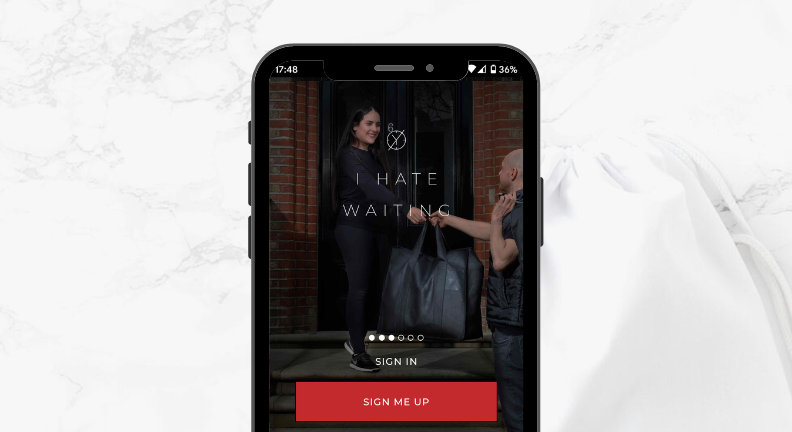 ihateironing App – On Demand Laundry & Dry Cleaning
We've created our on-demand laundry and dry cleaning app with your convenience in mind.
Total control of your orders, account information, and access to special features and helpful tips is just one tap away. The app is the easiest way for our customers to book their collections and have their laundry needs taken care of in no time.
The ihateironing laundry app is available on both Apple and Android devices.
1. PLACE AND RESCHEDULE ORDERS
After signing in to the ihateironing app through your phone, you'll land on our ORDER page – where you can schedule a collection and delivery to your address at the touch of a button.
Once your order has been placed, you'll be able to track its progress. This screen also allows you to amend your collection time if needed.
2. ADD SPECIAL REQUIREMENTS TO YOUR ORDER
On your ihateironing app's order page, you can easily inform us of any special requirements you have.
Tell us what service(s) you require, specify your alteration measurements and repairs, set out your delivery instructions and more!
3. ACCESS ALL OF OUR FEATURES
By selecting the menu ≡ option on the top left-hand corner of your order page, you'll be able to access a range of features at the touch of a button.
4. UPDATE YOUR LAUNDRY PREFERENCES
Like your laundry a certain way? No problem! You can update your laundry preferences for all of your current and future orders, so you don't have to tell us each time.
Choose whether you'd like your shirts folded or hung, how you'd like us to take care of your bedding, and whether you'd like your bag to be delivered to a trusted neighbour.
You can also add calendar reminders to make sure you never miss our drivers!
5. GET A FREE CLEAN
By sharing your unique coupon code with a friend you'll give them £10 to try at ihateironing, and also receive £10 for yourself to use on your next order!
6. KEEP YOUR ACCOUNT INFO UP TO DATE
From 'My Account', you can edit your name, contact details, home address and preferred payment method easily though our laundry app.
7. GET SUPPORT
We created the 'Support' section on our app to make it as easy as possible to find answers to your queries.
Our ihateironing Customer Care Team is always on hand to answer your questions or resolve your issues. You can easily reach out to us via call or our in-app chat.
You can access our FAQ section, where you'll be able to find a range of helpful information about collections, our service, and payments.
---
DOWNLOAD THE IHATEIRONING APP
Start your laundry journey today by downloading the app to your mobile device.
The ihateironing laundry app is available on both Apple and Android devices.
---
ihateironing is a network of professional dry cleaners providing the finest dry cleaning and laundry service with convenient collection and delivery at any times that suit you. We operate in London, New York, Brighton, Edinburgh, Oxford, and beyond.