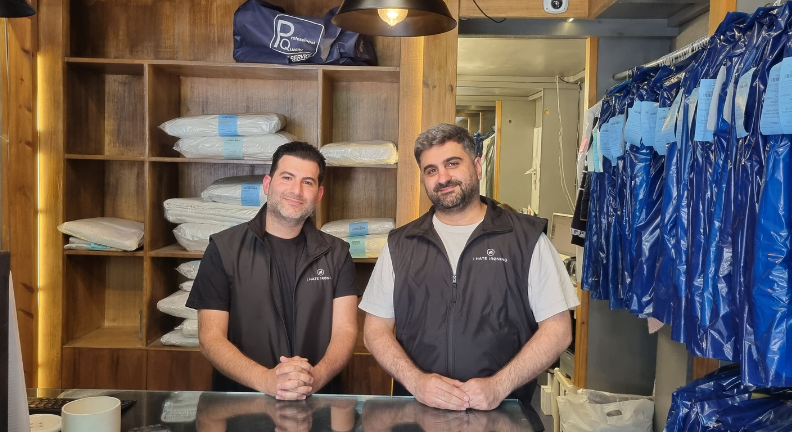 In the Laundry Room: How To Run a Successful Dry Cleaning Business
When it comes to running a successful dry cleaning business, a lot of work takes place beyond what the eye can see: in the laundry room. Behind the scenes of this seemingly ordinary space, lies a wealth of expertise and untold stories of entrepreneurial triumph.
Our dry cleaning experts have navigated the ever-evolving landscape of the dry cleaning industry. Through years of experience, trial, and error, they have honed their skills and fine-tuned their businesses to create a harmonious balance between quality, efficiency, and profitability.
We sat down with Hamid & Ali, our Putney dry cleaners, as well as Hossein, our dry cleaner in Fulham, to learn about their experience as dry cleaning entrepreneurs. Hamid and Hossein are brothers who worked together in one shop initially, before expanding their success individually and opening their own respective shops.
In this article, we share the steps to success that have helped our very own ihateironing dry cleaners master the art of running a flourishing and successful dry cleaning business.
Step 1: Learn the ins and outs before you start
In order to create a flourishing business, you need to know all the ins and outs. Before deciding to set on your own venture of creating a dry cleaning business, you should have hands-on experience in the laundry room that'll guide your business decisions for the years to come.
"For years I worked in different dry cleaning centres." explains Hossein, "I took on many different positions and learned everything about the cleaning, ironing, repairs, alterations, and packaging processes."
Not only does this experience help you figure out if the industry is right for you, but you'll know exactly what kind of skills to look for when hiring staff, how to guide your team, and how to problem-solve when issues arise.
Step 2: Find your drive to run your own business
Hossein, in front of his shop AtHome Dry Cleaning in Putney
Running your own business, regardless of what industry you're in, is hard work.
Especially in the case of a dry cleaning business, you can expect to spend a lot of time in the laundry room taking care of things personally, as well as operationally overlooking your entire centre. Our dry cleaners, Hossein and Hamid, both worked in the industry and learned everything they could about the business before launching their own shops.
"I worked in the dry cleaning business for many years before deciding to open my own centre. My drive was that I wanted a place to call my own, and to put my ideas into practice." says Hossein, who has been running his own business for more than 15 years.
Hamid was first introduced to what it's like running a business when he briefly looked after Hossein's shop all those years back. He explains: "Back in 2010, I looked after my brother's business for a short time while he was away, and discovered I have a passion for being an entrepreneur. I opened my own dry cleaning centre just a few years after."
Step 3: Make sure you're ready, and able, to put the work in
Starting any business from scratch is no easy feat, especially a dry cleaning business which requires a lot of machinery, staff, and industry knowledge.
Our expert dry cleaners claimed that from the get-go, they were ready to put in hard work into their businesses to set them up for success. Making sure you're ready, and able, to put the work in went beyond just their personal motivations. Financially, you have to make sure you're ready to invest in growing your business.
Hamid (left) and Ali (Right) at their shop Diamond in Putney
Hamid explains how putting in the work from the start helped set up their future paths: "We worked really hard at the very start to get our business on its feet. With everything we made from our orders, we invested in improving our machines, hiring dedicated staff, and making sure we were at a good size to run comfortably. Afterwards, we reached out to ihateironing for a partnership once we knew we fit the requirements."
Step 4: Create specialist roles for your dry cleaners
When bringing staff on board, our experts recommend creating dedicated roles for each person in the team to work in. This helps your team become specialists at what they do, and really focus on putting the best kind of work and care into their tasks, as opposed to having to worry about being in multiple places at once.
"What made a big difference for us in terms of quality assurance and smooth operations was creating dedicated roles for our staff. We have dedicated team members for pressing, others for dry cleaning, as well as professional tailors and seamstresses." explains Ali. "By clearly dividing these roles, we can guarantee that our quality doesn't drop."
Step 5: Choose supportive partnerships
Family businesses such as dry cleaning centres tend to operate based on a solid set of values and a shared vision. It's important to apply this same symbiotic and supportive mindset to any and all of the partnerships that you bring on board to propel your dry cleaning business forward.
"The reason we put a lot of effort from the start to work with ihateironing is because we could see that we have the same priorities and work ethic. It was very important to us not only to find the right partnership to support our business – but also to support our growth." says Ali.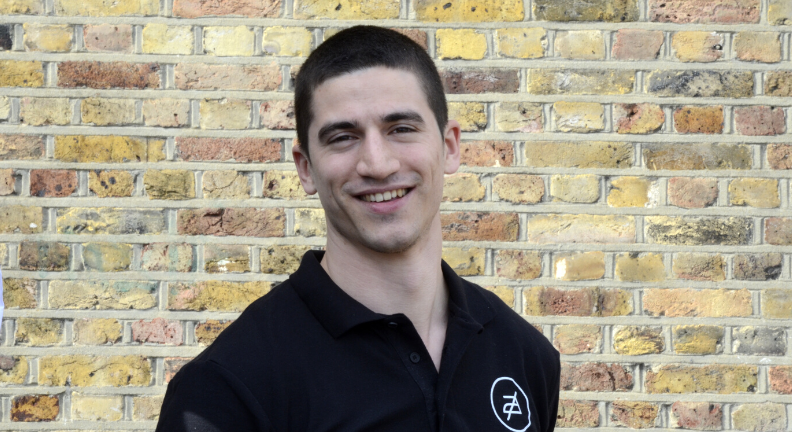 Andre, Senior Operations Manager at ihateironing, who works closely with Hamid, Ali, and Hossein
Ihateironing is powered by its network of professional dry cleaning centres, who are closely trained and supported by the head office team and the different departments within the company.
"With the world shifting towards online businesses, we knew that ihateironing was a good partner thanks to the visibility they give us. We no longer have to depend on natural footfall to get new customers, and can reach customers that live outside of our direct neighbourhoods thanks to the website and app." explains Hamid. "We're happy that we can adapt to the changing times and keep answering to the demands of customers."
Step 6: Put your existing customers first
Beyond attracting new customers, our professional dry cleaners stress on the importance of providing your current customers with an experience they'll come back for, time and time again. Hamid, Ali, and Hossein all invested valuable time in learning everything they could about providing stellar customer service.
"We had to learn a lot about how to gain our customers' trust. We went through a lot of training, which is passed down to every member of our staff, on prioritising the customer experience." says Ali. "Ultimately, people are trusting us with their valuable items, and they need to know that we're taking care of them."
Sometimes, businesses can lose sight of existing customers when they focus on growing. Our dry cleaners reiterate the importance of not only bringing in new customers, but making sure your business model is sustainable by giving your royal customers the experience they expect.
Step 7: Embrace change and its challenges
Change is no stranger in an industry as ever-evolving and developing as the dry cleaning world. With these changes, of course, come natural challenges. In order to run a successful dry cleaning business, our experts recommend embracing these changes and learn how to overcome the challenges they bring.
"Technology has definitely advanced for the better when it comes to making our operations easier and more efficient. New pressing machines cut the time spent on ironing in half, for example." says Ali.
"A big change that our industry was hit with was the Covid-19 pandemic, in which we lost most of our in-person customers and footfall into our shop stopped almost entirely. By having ihateironing on board, we were able to still reach customers without them coming to our shop. We definitely noticed a big shift with most of our business switching to online customers rather than in-person customers, and were happy to be able to adapt to the changing times and stay afloat."
---
Work With Us
Since 2014, ihateironing has connected people with the best dry cleaning centres in their local area. We're a leading on demand laundry and dry cleaning service which prides itself on providing convenience, high quality cleaning, and world-class customer care.
Discover opportunities to join our network of expert dry cleaners here.
---
ihateironing is a network of professional dry cleaners providing the finest dry cleaning and laundry service with convenient collection and delivery at any time that suits you. We operate in London, New York, Brighton, Edinburgh, Oxford, and beyond.