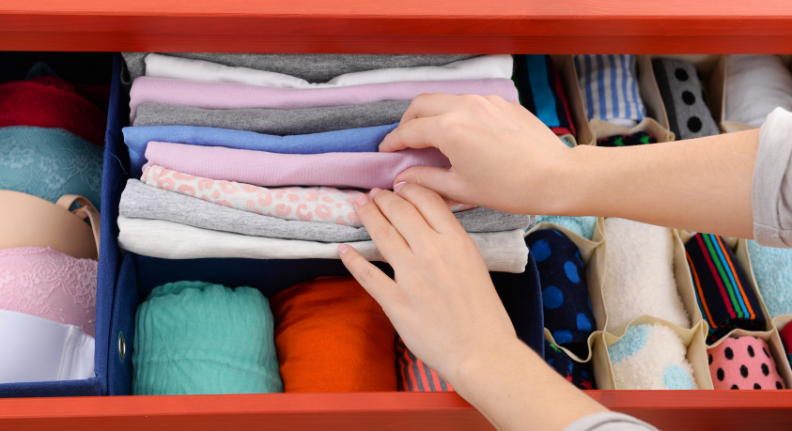 Expert Tips: Make Your Clothes Last Longer
As the cost of living crisis starts to bite, over 50% of people said they intend to cut back on clothes spending in a new survey published by the BBC.
Consumer spending on clothes in the UK reached £57.2 billion in 2021, making clothes one of the biggest spending items. However, as people start making changes to their day-to-day spending, many can project this number to drop.
A survey conducted in 2019 showed that total UK consumers will have nearly £33,000 of clothes lying unworn in their wardrobes across their lifetime. By switching the perspective towards restoring clothes and extending their lifetime instead of replacing them by buying new ones, we can cut down on unnecessary clothes spending.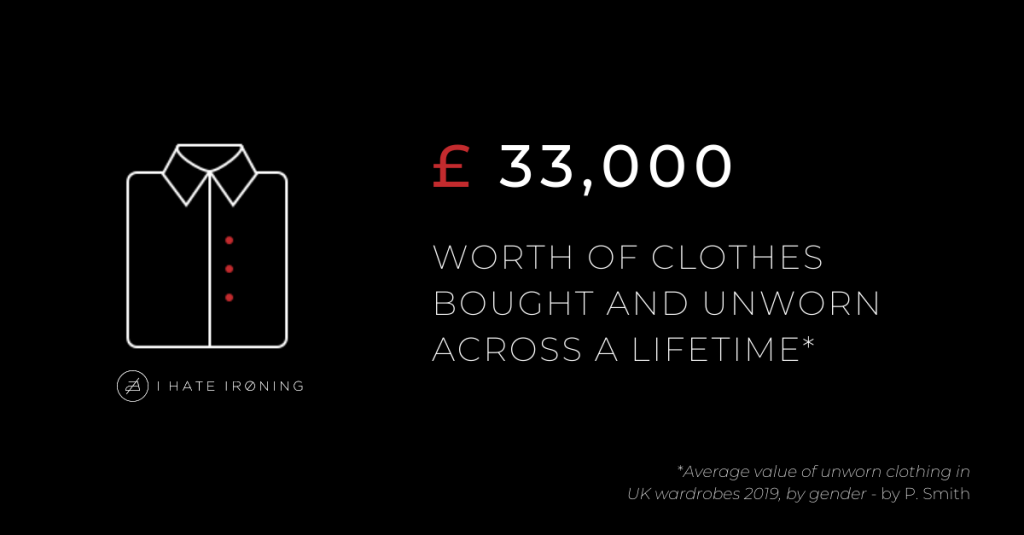 As the leading on demand laundry service with years of experience in the industry, we process nearly 60,000 items each week. Since 2014, we have years of clothes care expertise.
Over the years, I've learned quite a lot about how we can make our clothes last longer to double the lifetime of our wardrobes and cut down spending on clothes.
Here are some helpful tips on how to clean, wear, and store clothes properly so you can cut down your clothes spend and make your clothes last longer.
---
How to Make Your Clothes Last Longer
Cleaning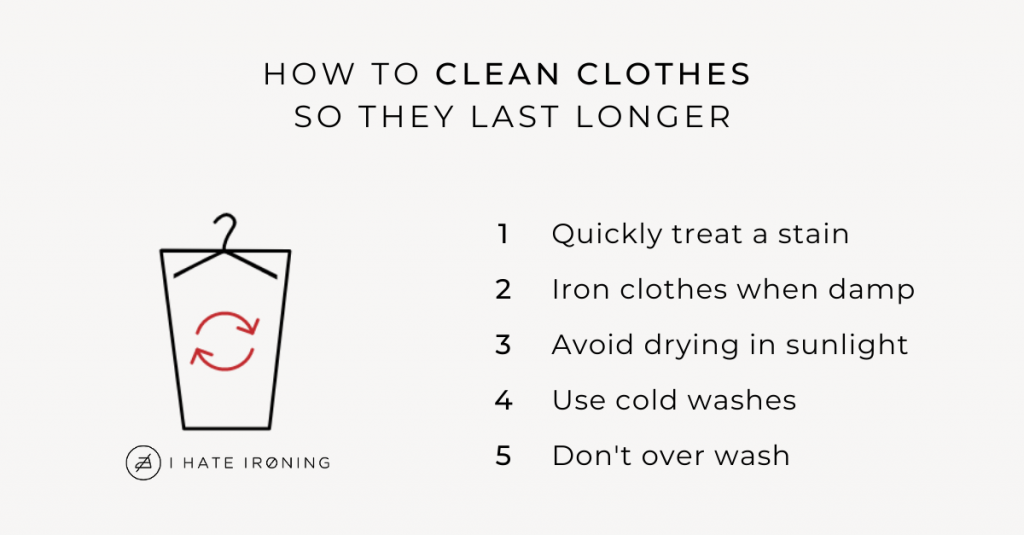 How you clean your clothes can quite easily make or break the quality and lifespan of your items. Washing delicate fabrics on a too-high setting can cause them to shrink or fade in colour, and forgetting minor stains for too long can set them into your items permanently. Check your clothes' care label before washing to make sure you're caring for it the right way.
These clothes cleaning tips can help you avoid this:
1. Quickly treat a stain
There's lots of advice out there on how to treat stains, but the most important thing to do is to treat stains instantly before they dry and set into the clothes (we've all heard the white wine to remove red wine trick, but your best bet is usually a stain-removal solution).
2. Iron clothes when damp
Ironing clothes when damp ensures that the creases don't become embedded into the fabric! If you leave creases to dry into clothes, they'll be a lot harder to get out and will take more time to iron later.
If you're struggling to iron your shirts, our step by step ironing guide is here to help.
3. Avoid direct sunlight while drying
When drying your clothes outside, try to avoid leaving your items under direct sunlight as that might break down the dyes in your clothes and cause the colour to fade.
4. Use eco-mode and cold washes
Washing clothes on a colder temperature will help them last longer – this works especially well for delicate clothes that are prone to shrink in hot water, such as linen and cotton.
5. Don't over-wash
While it's important to keep your clothes clean and fresh, many items don't need to be washed as often as we think. Suit jackets, for example, can go through a number of wears before needing to be washed – especially if they're kept clean from stains.
---
Wearing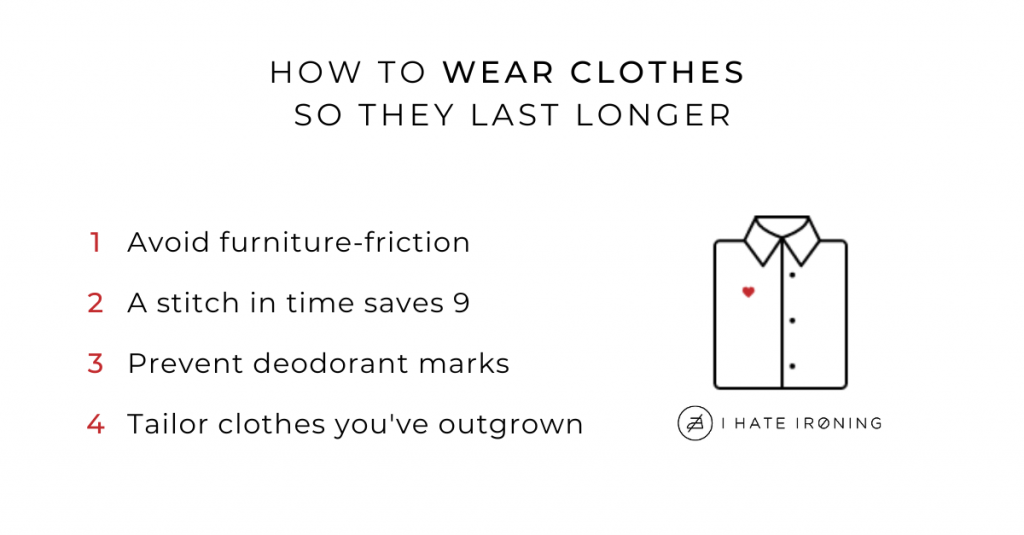 Preserving the quality of our clothes depends largely on how we take care of them when we put them on.
1. Avoid furniture friction on clothes
Take your valuable clothes off as soon as you get home. A high quality dress or pair of trousers rubbing against your sofa while you watch a bit of TV is no good for it, and causes the fibres to break down easily.
2. A stitch in time really does save 9
If one of your items has a small tear, getting that tear stitched up as soon as possible will save you the risk of finding out that the tear has been getting worse over time and become irreparable.
3. Tailor and alter clothes you've outgrown
A change in body shape doesn't make old clothes unwearable. You can take in, take out, shorten or lengthen most items to make them fit perfectly again. A simple alteration can go a long way in prolonging the life of a garment.
4. Prevent deodorant marks early
We all hate the stubborn residue left on our clothes from deodorant. A simple way to prevent these deodorant marks is to wait 5 minutes after applying deodorant before putting your clothes on.
---
Storage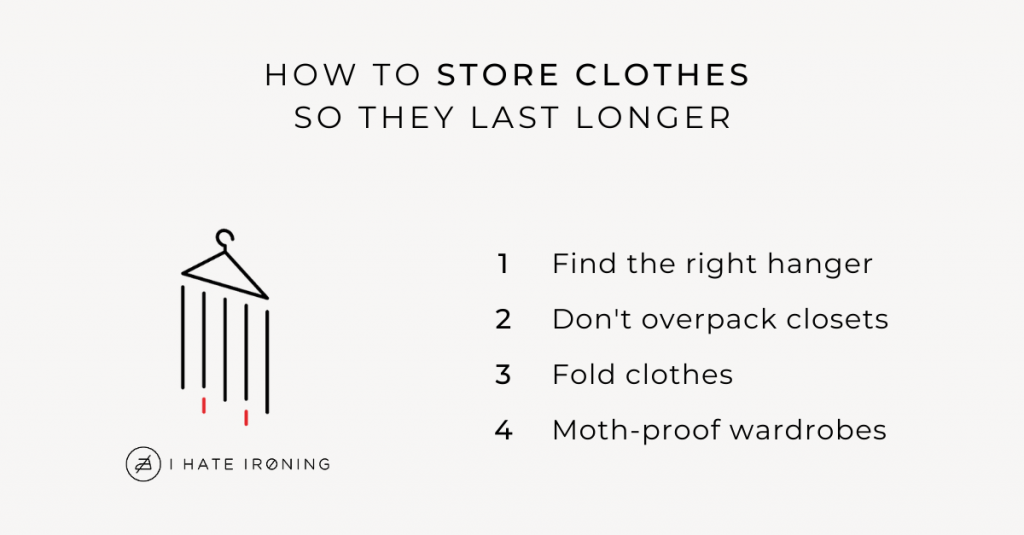 Our clothes spend a large chunk of their lifetimes in our closets, and while many think they're safely tucked away, the way they're stored has a great effect on their durability.
1. Find the right hangers
Many people think simply hanging their clothes would be enough for the garments to maintain their shape, however choosing the right shape and materials can make sure your clothes keep their form.
2. Don't overpack your closets
Give your clothes some breathing room. Squishing your items together in the closet can cause them to develop lint balls and ruin their fibres as a result of friction. It's also important to know how to seasonally organise and declutter your wardrobe to avoid overpacked and messy closets.
3. Fold certain clothes instead of hanging them
Certain items such as t-shirts, sweaters and knitwear should be folded instead of hung to avoid stretching out over time.
4. Moth-proof your wardrobes
Forgetting to wash clothes before storing them away in your wardrobes can easily lead to pesky moths eating their way through badly stored clothes. Firstly, give your clothes a good wash before packing them away, and regularly check your closet for signs of moths such as the tell-tale holes in your clothes.
---
About Matt Connelly
Matt Connelly is an entrepreneur, founder, and industry expert who started ihateironing in 2014 with the goal of creating a convenient on-demand service while supplying growth to local businesses.
---

ihateironing is a network of professional dry cleaners providing the finest dry cleaning and laundry service with convenient collection and delivery at any times that suit you. We operate in London, New York, Brighton, Edinburgh, Oxford, and beyond.