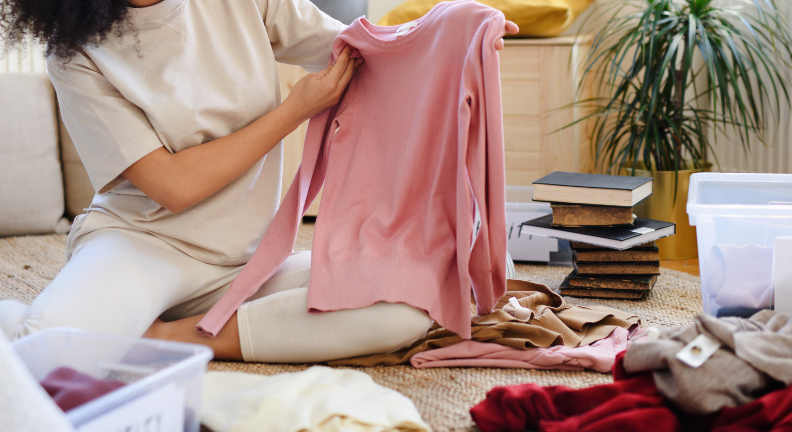 Essential Guide to Spring Cleaning Your Bedroom
Every year, households across the country take part in the annual affair of spring cleaning their bedrooms.
With the arrival of spring's longer and sunnier days, many of us are welcoming the season with a clean and fresh slate. And there's no better place to start than the bedroom!
After all, your bedroom is your sanctuary – the place where you relax and recharge after a long day. So, it's important to keep it clean, organized, and clutter-free.
Our network of expert cleaners have put together a guide to walk you through the essential steps of a bedroom spring cleaning.
---
Our essential bedroom spring cleaning checklist:
---
What is a bedroom spring cleaning?
Spring cleaning is the annual tradition of thoroughly decluttering, cleaning, and reorganising your home at the beginning of spring. The usual spring cleaning period runs between March to May, giving people ample time to adapt their living spaces to the turn of the season.
The bedroom is one of the main areas of the house that people kickstart their spring cleaning in, and helps you start the warmer days on a more positive note.
Why do people take part in bedroom spring cleaning routines?
With the warmer, longer days of spring comes a sense of renewal that drives people to want to give their living spaces an overhaul. On a personal level, spring cleaning helps people feel more motivated to kick off the season on the right foot.
Additionally, spring cleaning provides the perfect opportunity for people to switch out their winter clothes for their spring wardrobes, replace heavy bedding with lighter linens, and get rid of any dirt and dust that built up over the winter months.
How to spring clean your bedroom in 5 easy steps
Giving your bedroom a full overhaul can feel like a daunting task to many, especially when it comes to figuring out where to start, what to prioritise, and the best tools to use.
---
1. Declutter your bedroom
Before you can get into deep cleaning your bedroom, start by decluttering your space.
This includes emptying out and reorganising your nightstand taking out the trash, and clearing any surfaces in your room.
Check your drawers: Drawers are the most common spot in the room for clutter to build-up. It's very easy to put things in your drawers and forget about them as soon as they're out of sight. For that reason, go through all of your drawers and get rid of items you no longer need.
Clear your surfaces: Clutter on your nightstand, desk, or other surface in your room can really make a decent bedroom instantly look messy.
From old receipts, train tickets, and brochures stuffed away in your desk, to expired makeup and loose hair-ties – decluttering your space can help you kickstart your bedroom spring cleaning on the right foot and a clean slate.
If you need help with where to start, our guide to decluttering your home can help you rid your living spaces of unnecessary items.
---
2. Deep clean and switch out your bedding
This is the perfect chance to replace your heavy winter duvets and blankets with lighter linens, as well as give some overlooked parts of your room (such as your mattress) a proper clean.
Strip and sort your bed linen: Start by removing all of the bed linen from your bed, including your fitted sheets, mattress toppers, pillows, pillow cases, duvets and duvet covers. Sort your items by colour and material, and then put them in your washing machine on a hot water setting – make sure to check your bed linen's care label to figure out what setting would be the safest for the fabric.
Inspect mattress for dirt and mould: Once you've stripped the bed, take the opportunity to carefully inspect your mattress for signs of staining and mould. Vacuum your mattress to get any small pieces of dust, debris, hair and pet fur out of its fibres. If you spot any signs of a mouldy mattress, including yellow and brown stains or a musty smell, you should spot-treat the area immediately and give the mattress the chance to be aired out under direct sunlight. 
Spot-treat your mattress: Spot treating a stain is easier than you think. At-home remedies can help target mould before it seeps deeper into your mattress. Use a mixture made up of equal parts rubbing alcohol and water, submerging a washcloth in it and rubbing the affected area to get rid of the mould. Afterwards, you should put your mattress to dry under direct sunlight to help it air properly. 
When you're done washing your bed sheets, pillow cases, and duvet covers, dry your items on high heat in your dryer, or air-dry them in a well ventilated room.
---
3. Refresh your curtains
While giving your curtains a regular wash or dry clean every few weeks isn't necessary, it's essential to refresh them at least once or twice a year to keep them looking and feeling fresh – and there's no better time than the turn of spring!
Remove the hardware: Start by taking down your curtains from the rods and removing any hardware – including hooks or rings which could get snagged during the cleaning process (this also helps make your curtains easier to handle and carry!)
Dust and vacuum your curtains: Take your curtains outdoors to your garden, balcony, or hallway and shake off any loose dust. Afterwards, use a vacuum cleaner with a brsuh attachment to gently remove any remaining particles.
Delicately clean your curtains: Make sure you start by checking the care label. Curtains are often made from delicate materials, some of which are dry-clean only. When it comes to washing or dry cleaning your curtains, sending them to a professional curtain cleaning service is the most responsible and effective way to make sure they're treated with the appropriate level of care and expertise.
Machine wash your curtains: If your curtains are good to be machine-washable, you can wash them in cold water on a gentle cycle with a mild detergent.
Dry curtains after washing: Use a dryer on a low or delicate cycle, or hang your dryers on the drying rack to air dry them in a well-ventilated room. Be sure to remove them from the dryer while they're still slightly damp to prevent wrinkles.
While giving your curtains a full refresh yourself can be a time-consuming task, it's the perfect way to maintain the cleanliness of your room. You can always opt for professional curtain cleaning help that'll take the hassle off your hands and speed up the process for you.
---
4. Spring clean your wardrobe
Spring cleaning your wardrobe is arguably one of the most central steps in your annual spring cleaning routine. However, beyond replacing winter clothes for lighter ones, many people forget to give their closets and drawers a thorough cleaning to make sure their clothes are being put into a clean and fresh environment.
Empty out and sort your wardrobe: Empty out your entire wardrobe so you can tackle the area directly and appropriately. As you do this, sort your clothes into piles using the following categories: Keep, Mend/Clean, Donate, Discard, and Store. This will help you decide which of your items are worth holding onto, which need a bit of repairs or alterations before being wearable again, which you can donate or discard, and which will need to be stored away to bring back out for the winter.
Launder your clothes: Before putting your winter clothes away for storage, we always recommend giving them a quick wash to eliminate the build up of dust or dirt during storage. Similarly, make sure you wash any clothes you bring out that have been stored away over the winter months, so they're fresh and ready to wear when you need them. A professional laundry service can help take the long cycle of sorting, washing, and drying off your hands.
Dust and vacuum your closet: Start by dusting your closets and drawers, making sure to reach the dust mites and debris that gets stuck in crevices and latches. Follow this up with a deep vacuuming of the space, picking up any small particles that may have been missed in the dusting process.
Disinfect your wardrobe: Give the inside of your wardrobe a wipe down either with bacterial wipes, or a cloth soaked in a mixture of warm water and dishwashing soap. This helps kill any remaining bacteria and helps rid your closet of any forming mildew or mould.
Air it out: Wrap the cleaning process up by leaving your wardrobes open for a few hours, letting it air out properly before putting any new clothes back in.
If you don't have time to invest in sorting, washing, drying and folding all of your clothes, a professional laundry service can take the bulk off your hands. A door to door laundry service will collect, clean, and deliver your garments ready to wear or store away.
---
5. Clean and vacuum your bedroom floor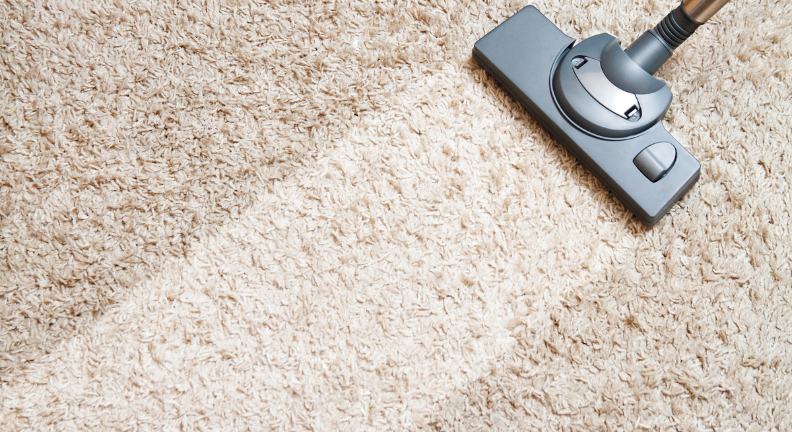 Finally, it's time to tackle your bedroom floor. Through the process of cleaning your surfaces, storage spaces, bed, curtains, and wardrobes, you've probably accumulated a fair amount of dust.
Clean under and behind furniture: With the rest of your bedroom now in top shape, it's time to move your bed and dressers to clean some commonly forgotten areas. Build-up can easily occur over time when it's beyond what the eyes can see, and so it's important to sweet and vacuum those hard to reach spots.
Clean your bedroom rugs: Bedroom rugs tend to attract a lot of particles, from debris to hair, fur, and other things dragged into your room. Besides your regular vacuuming, your rugs can also use a professional wash or dry clean to get rid of any stains.
And voila! You have now successfully accomplished the task of spring cleaning your bedroom. While most spring cleaning can be done in around a day or two, it can take a lot longer if you have a crowded wardrobe, heavier bed linens, and curtains that need special attention.
These easy-to-follow spring cleaning steps can be made even easier with the support of a dedicated laundry and dry cleaning service.
---
ihateironing is a network of professional dry cleaners providing the finest dry cleaning and laundry service with convenient collection and delivery at any times that suit you. We operate in London, New York, Brighton, Edinburgh, Oxford, and beyond.