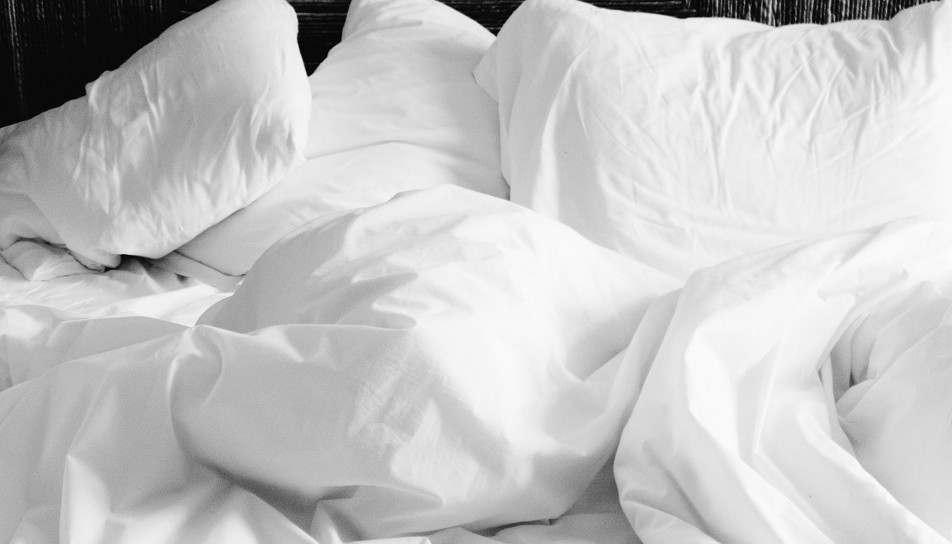 5 SIMPLE WAYS TO GET A GOOD NIGHT'S SLEEP
Why do we so often feel groggy, tired and stressed? Do you regularly get a good night's sleep? Sleep better, feel better–it's simple.
"The trouble is you think you have time."
We couldn't have said it better than Buddha. But we can help you take control of the time you do have, by learning how to get a good night's sleep.
We're providing five simple ways to sleep better, make your sleep feel longer and make it feel like a full night's worth (even if it's not).
You need this if: you've yawned in the past 10 minutes, you passionately loathe the sound of your alarm clock, your default excuse is, "I woke up late," or, you're yawning now. If you're reading this in bed because you've had an amazing night's sleep, woke up a little early and have spare time to have a relaxing read (weekends exempt), please tell us your secret! 
Although the National Sleep Foundation recommends 7-9 hours of sleep nightly for adults and 8-10 hours for teens, most of us are barely hitting the minimum mark. Whether it's lifestyle, oversleeping or insomnia that leaves you feeling unrested every morning, these five tips will make you feel sensational after you've snoozed. Try this tonight and thank us in the morning.
1. GET A GOOD NIGHT'S SLEEP: PLAN.  PRACTICE.  PATTERN.
Choose your desired time to wake up in the morning and count backwards for the ideal amount of hours you want to sleep. That is your sleep time. Not your bedtime. Sleep time. This is the time you want to be in la la land. Your bedtime should be around 30 minutes to 1 hour before this. Once you've set a plan in place you must stick to it (on weekends too) when you can. The first few weeks are crucial. How else can you create a pattern without putting the plan into practice? After this, your body will get into the swing of your sleeping pattern.
2. DON'T LET YOUR ALARM TICK YOU OFF…
…Or wind you up. Your alarm clock shouldn't be your worst enemy; it's supposed to help you sleep better and wake up on time, so set your alarm to suit your slumber.
• Name your alarms, the first thing you'll read each day: "Want that birkin? Get to workin!" "If you wake up now, you'll get waffles" "Sleep is for the rich" and so on.
• Add fun tracks: A motivational one to kick start a productive day? A favourite you can't help singing along to? An annoying song you hate and have to turn off right now? Choose strategically.
• An alarm army: Try one at your side & one (set 1 minute later) with a startling sound across the room so by the time you stop your 1st alarm you know you've got around 30 seconds to put the 2nd one out. Once you have, you're out of bed and alert.
SNOOZE SUGGESTIONS TO GET A GOOD NIGHT'S SLEEP
For those unwilling get-on-uppers we've got a couple of snooze suggestions if you just can't bring yourself to break up with that button and sleep better:
• 1st alarm 1-½ hours before you actually have to get up so sleep feels longer
• Set snoozing period for 30 seconds to irritate you more than the idea of getting out of bed
• Download iCukoo, the genius alarm app that donates to charity every time you snooze. The phrase "you snooze you lose" just got real.
3. SET THE SCENE TO GET A GOOD NIGHT'S SLEEP
If you want a good night's sleep you've got to create the right environment for it. These will turn your surroundings into the perfect setting for slumber satisfaction:
• Ensure both your mattress and pillows are giving you the best support
• Cool temperature (science suggests 65 °F/18°C is best)
• Make your room very very dark (eye masks are perfect for blocking out light and force you to close your eyes)
When in doubt, think of a cave – cool, dark and quiet (but we'll get to the quiet bit next…)
4. UNPLUG & UNWIND TO GET A GOOD NIGHT'S SLEEP
You know what this means. Yes, we're banning all electronics in the sleeping sanctuary.
Unplug completely. This means televisions, laptops, tablets and all electronics switched off, and preferably in a different room. If you use your phone for an alarm, consider buying a traditional alarm clock–Simon Sinek has offered to buy you one. 
How can you expect to sleep peacefully with the day's stress on your shoulders? Pick a couple of these rituals to do an hour before your scheduled sleep time:
Hot bath or shower with relaxing salts, floats, or candles

Light jogging or walking

Meditation

Reading 

Stretching

Journaling

Conscious reflection of the day
5. WATCH THE BACK OF YOUR EYELIDS
Anything good on? No, seriously. This is the part where you let go, take a deep breath and close your eyes. Be patient though. Although it won't happen straight away, if you're still awake after half an hour it could mean you're not quite ready to snooze yet. So don't toss and turn frothing with frustration doing the dreaded sleep math (you know the one). When this happens you need to get out of bed and go into another room to repeat some of your unwinding routine until you feel a little sleepy.
Silver lining? You'll discover what is most effective for you and can create a ritual of that routine every night to improve your sleep each night.
So there you go. Sleep tight, sleep better, and finally get a good night's sleep!