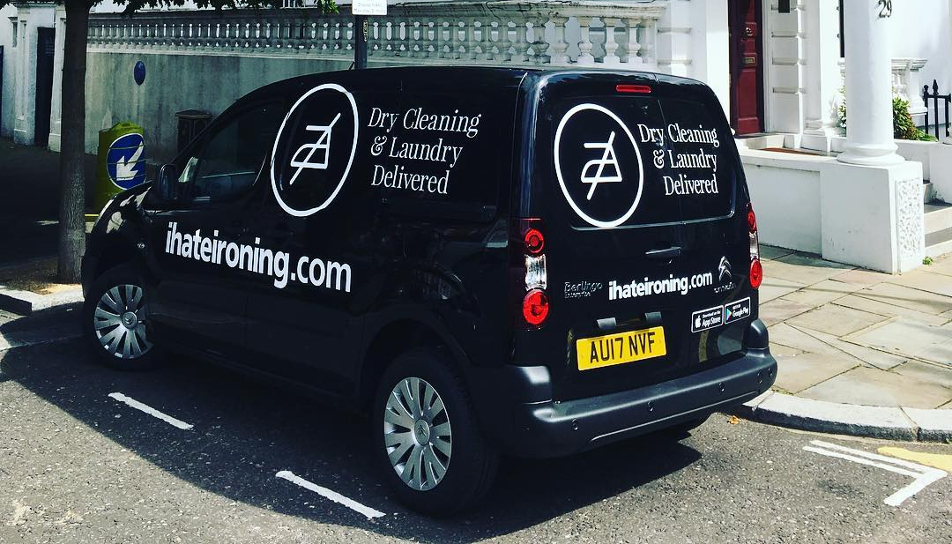 Why We're Not Resting On Our Laurels
You have to start with the customer experience and work backwards to the technology. –  Steve Jobs
At ihateironing, our aim is to provide the best dry cleaning and laundry delivery on earth.
The more time I spend in the company, the more I realise that this is not as simple as it sounds.
If the goal was to make ihateironing into the biggest on demand laundry service in the world this would be infinitely more achievable. The fly in the ointment is that it wouldn't align with our values and why our founder Matt setup the service.
From the early days, the mission was clear, we wanted to make our customers' lives easier. We're not huge fans of corporate platitudes that look great in the lobby but which are paid no more than lip service at the company off site. For us, if you'll excuse the pun, the mission is 'stitched in' to every decision we make, big or small about the business. The bottom line is that we continually ask ourselves if an improvement will make our customers' lives easier. If so, it will get considered, if not the idea is simply left on the proverbial cutting room floor.
As Steve Jobs alluded to in the above quote, the technology is often the easiest part in building a world class service. Computers are very good at providing yes or no answers, either it works or it doesn't and whether it's the app or the mobile website it's often quite easy to determine the failure points and improve them incrementally. What is significantly tougher is providing an un-paralleled service, at scale involving many diverse groups of people. We would like to give an brief overview of what we have been working on recently to make the experience even better for our customers and more importantly, why we've done it.
Training of drivers
Our drivers are most likely the first human touchpoint that our customers have with the brand.
While we have always prided ourselves on working with partners who really care about all aspects of the service, we thought it was important to revamp our training programme for all of our drivers.
Our head of operations Andre, has reviewed our entire driver training programme and re-worked it from the ground up.
Before any driver is assigned a job they must undergo the new rigorous training programme at the ihateironing head office.
In the new programme we stress the importance of ensuring that all our drivers are fully uniformed. The old adage is still relevant today, that you never get a second chance to make a first impression.
We understand that your trust is paramount when placing your faith in an online dry cleaners. You are handing us something incredibly personal to you, your finest garments. We feel there is a world of difference when a driver comes to your door in a professional, smart uniform. You can instantly identify that the driver is from ihateironing and it makes that first interaction all the more pleasant.
Another key pillar of our training is to ensure that we improve our communications if any of our drivers are running late. On time deliveries are not surprisingly one of the high standards that we hold ourselves to. We believe we have one of the best records in the industry for on time delivery. The team has put measures in place to ensure that if there is any traffic on the road or any delay, that we know about it and can communicate this quickly to our customers in advance of the time window ending.
Due to the nature of operating in busy cities, we know that it's not always possible to have a 100% record in this area but we know that we are very close to achieving a perfect score. There is a lot more to come on this, and we are working on a range of options to make the customer experience even better in the rare event that we are running behind on an order.
Another change that we have made is to ensure that all of our drivers have additional laundry bags ready at the point of collection. We had always offered a complimentary laundry bag on delivery of your items for the next order, however, we now ensure that all drivers bring a bag on collection just in case you don't have one to hand.
Sometimes, it's the little touches that make all the difference. We feel we've greatly improved the service that you receive on the door but we are always open minded to any suggestion you have that you feel could improve the service. You'll find an email address at the end of this article where you can get in touch and we guarantee we will read every one.
Shiny New Vans & More Drivers
Our business has seen huge growth in recent months, and with that growth comes an opportunity to build our network of drivers.
Recruiting more drivers means that we can continue to deliver on our promise of delivering within the one hour time slot that you select when you place your order.
We always maintained that it was important to ensure that our drivers are provided a branded van for deliveries.
There is a big difference in our opinion when a driver arrives in a smart, fully branded van versus an unmarked van.
All of our vans have been custom fit with inner rails to ensure that your garments are not damaged or creased on the delivery route. The rails also ensure that we can find your clothes efficiently and contribute to ensuring that we keep our on time delivery promise.
We've also added our iOS and Android app logos to the backs of our vans as many of our customers were not aware that we offer an app so you can order even faster when on the move.
We take great pride in our appearance, and people who have never heard of ihateironing have recently been showing us some love for the vans and the business in general.
Mystery Shop
It's fair to say that we have extremely high standards at IHI. The business would not survive without it.
Many of the top brands in the country have identified that it is not enough to rely solely on customer feedback when evaluating if standards are being met. While it is the most important input into what we do and how we do it, it is equally important to get an 'outside view'.  For this reason, companies will hire an external agency to monitor and 'mystery shop' their team a couple of times a year.
We wanted to do this a little differently.
Rather than take a snapshot at a point in time and repeat it a couple of times a year. We have recently rolled out a continuous mystery shopping programme.  Our drivers are the face of the brand and we know that if you have a great experience and interaction with our driver you are likely to become a loyal customer – a win win for everyone. Starting last month, we pick customers at random and ask them for their full and honest feedback on their experience. The questions range from the interaction on the door, to the quality of the service, down to the pressing of their garments. If something is not quite right, we want to know. This is in addition to the amazing feedback we receive from our customers each and every day in the form of reviews of the service on our website, on Google and on Facebook.
We are just starting to build up an even more detailed view of our entire service, and, as we believe in transparency, we will be delighted to share the results with you in due course.
As always, if you have any feedback on the above or any aspect of the service we would love to hear it. You can email us on info@ihateironing.com and we promise to review each and every suggestion.