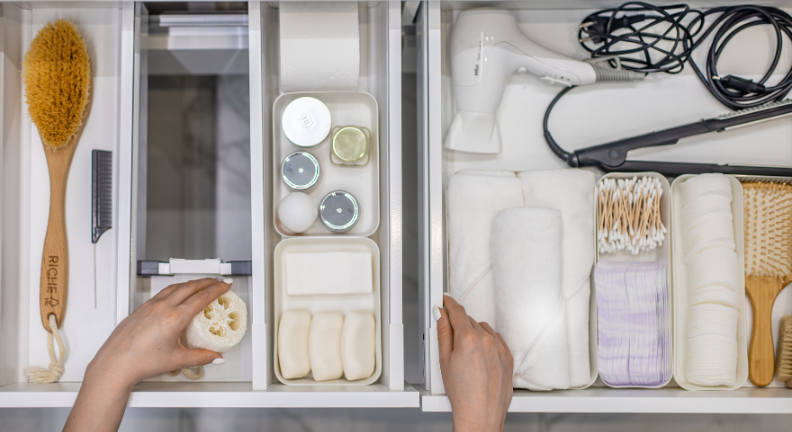 Ultimate Guide: Declutter Your Home in 30 Days
Need help to declutter your home?
We've all got that box, or closet or even room full of old and unwanted things that we haven't gotten around to sorting and just don't know what to do with. The things you own should bring you value–function, sentimentality, aesthetic, or otherwise.
In a material culture, we're used to being inexplicably attached to our possessions. But these attachments clutter not only our space but also our minds, and eventually make us miserable.
So where to begin? Decluttering your house in one go can be an overwhelming ordeal, especially when it comes to knowing where to start and what to get rid of first.
We've put together a 30-day plan to declutter your home, by gradually getting rid of only five things each day. Our one month list is efficient, effective and super easy. Whether you bin it, recycle it or donate it – just get rid of it, declutter your home and minimise your life. You'll be happier for it.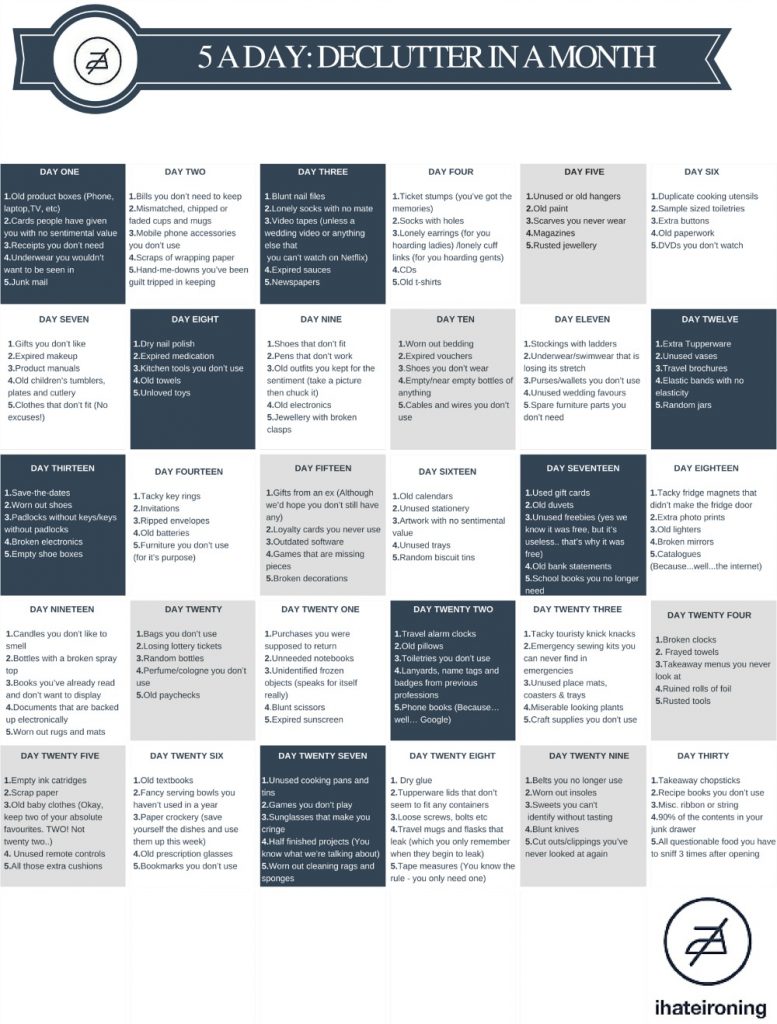 Declutter Your Home with the Declutter Calendar
Check out The 30 Declutter Calendar, a guide to declutter your home. Each day, toss these five things and at the end of the month, say hello to your newly organised space! Ready to declutter your home? Start today and throw away your way to a happier life.
---
Day One
Old product boxes (Phone, laptop,TV, etc)

Cards people have given you with no sentimental value

Receipts you don't need

Underwear you wouldn't want to be seen in

Junk mail
---
Day Two
1. Bills you don't need to keep
2. Mismatched, chipped or faded cups and mugs
3. Mobile phone accessories you don't use
4. Scraps of wrapping paper
5. Hand-me-downs you've been guilt tripped into keeping
---
Day Three
1. Blunt nail files
2. Lonely socks with no mate
3. Video tapes
4. Expired sauces
5. Newspapers
---
Day Four
1. Ticket stubs
2.Socks with holes
3. Lonely earrings or cuff links
4. CDs
5. Old t-shirts
---
Day Five
1. Unused or old hangers
2. Old paint
3. Scarves you never wear
4. Magazines
5. Rusted jewellery
---
Day Six
1. Duplicate cooking utensils
2. Sample sized toiletries
3. Extra buttons
4. Old paperwork
5. DVDs you don't watch
---
Day Seven
1. Gifts you don't like
2. Expired makeup
3. Product manuals
4. Old children's tumblers, plates and cutlery
5. Clothes that don't fit (No excuses!)
---
Day Eight
1. Dried-up nail polish
2. Expired medication
3. Kitchen tools you don't use
4. Old towels
5. Unloved toys
---
Day Nine
1. Shoes that don't fit
2. Pens that don't work
3. Old outfits you kept for the sentiment (take a picture then chuck it)
4. Old electronics
5. Jewellery with broken clasps
---
Day Ten
1. Worn out bedding
2. Expired vouchers
3. Shoes you don't wear
4. Empty/near empty bottles of anything
5. Cables and wires you don't use
---
Day Eleven
1. Stockings with ladders
2. Underwear/swimwear that is losing its stretch
3. Purses/wallets you don't use
4. Unused wedding favours
5. Spare furniture parts you don't need
---
Day Twelve
1. Extra Tupperware
2. Unused vases
3. Travel brochures
4. Elastic bands with no elasticity
5. Random jars
---
Day Thirteen
1. Save-the-dates
2. Worn out shoes
3. Padlocks without keys/keys without padlocks
4. Broken electronics
5. Empty shoe boxes
---
Day Fourteen
1. Tacky key rings
2. Invitations
3. Ripped envelopes
4. Old batteries
5. Furniture you don't use (for it's purpose)
---
Day Fifteen
1. Gifts from an ex (Although we'd hope you don't still have any)
2. Loyalty cards you never use
3. Outdated software
4. Games that are missing pieces
5. Broken decorations
---
Day Sixteen
1. Old calendars
2. Unused stationery
3. Artwork with no sentimental value
4. Unused trays
5. Random biscuit tins
---
Day Seventeen
1. Used gift cards
2. Old duvets
3. Unused freebies (yes we know they were free, but they're useless.. that's why they were free)
4. Old bank statements
5. School books you no longer need
---
Day Eighteen
1. Tacky fridge magnets that didn't make the fridge door
2. Extra photo prints
3. Old lighters
4. Broken mirrors
5. Catalogues (Because…well…the internet)
---
Day Nineteen
1. Candles you don't like to smell
2. Bottles with a broken spray top
3. Books you've already read and don't want to display
4. Documents that are backed up electronically
5. Worn out rugs and mats
---
Day Twenty
1. Bags you don't use
2. Losing lottery tickets
3. Random bottles
4. Perfume/cologne you don't use
5. Old pay checks
---
Twenty-One
1. Purchases you were supposed to return
2. Unneeded notebooks
3. Unidentified frozen objects (speaks for itself really)
4. Blunt scissors
5. Expired sunscreen
---
Day Twenty-Two
1. Travel alarm clocks
2. Old pillows
3. Toiletries you don't use
4. Lanyards, name tags and badges from previous professions
5. Phone books (Because… well… Google)
---
Day Twenty-Three
1. Tacky touristy knick-knacks
2. Emergency sewing kits you can never find in emergencies
3. Unused place mats, coasters & trays
4. Miserable looking plants
5. Craft supplies you don't use
---
Day Twenty-Four
1. Broken clocks
2. Frayed towels
3. Takeaway menus you never look at
4. Ruined rolls of foil
5. Rusted tools
---
Day Twenty-Five
1. Empty ink cartridges
2. Scrap paper
3. Old baby clothes (Okay, keep two of your absolute favourites. TWO! Not twenty two..)
4. Unused remote controls
5. All those extra cushions
---
Day Twenty-Six
1. Old textbooks
2. Fancy serving bowls you haven't used in a year
3. Paper crockery (save yourself the dishes and use them up this week)
4. Old prescription glasses
5. Bookmarks you don't use
---
Day Twenty-Seven
1. Unused cooking pans and tins
2. Games you don't play
3. Sunglasses that make you cringe
4. Half finished projects (You know what we're talking about)
5. Worn out cleaning rags and sponges
---
Day Twenty-Eight
1. Dry glue
2. Tupperware lids that don't seem to fit any containers
3. Loose screws, bolts etc
4. Travel mugs and flasks that leak (which you only remember when they begin to leak)
5. Tape measures (You know the rule – you only need one)
---
Day Twenty-Nine
1. Belts you no longer use
2. Worn out insoles
3. Sweets you can't identify without tasting
4. Blunt knives
5. Cut outs/clippings you've never looked at again
---
Day Thirty
1. Takeaway chopsticks
2. Recipe books you don't use
3. Misc. ribbon or string
4. 90% of the contents in your junk drawer
5. All questionable food you have to sniff 3 times after opening
You've decluttered your home! Well done. If you've made it to the bottom of the list because you've been working through it, go on and treat yourself–but not with things!
---

ihateironing is a network of professional dry cleaners providing the finest dry cleaning and laundry service with convenient collection and delivery at any times that suit you. We operate in London, New York, Brighton, Edinburgh, Oxford, and beyond.